6 Tips for Managing a Remote Sales Team
Written by
Joe Arioto
Posted on February 2, 2023 In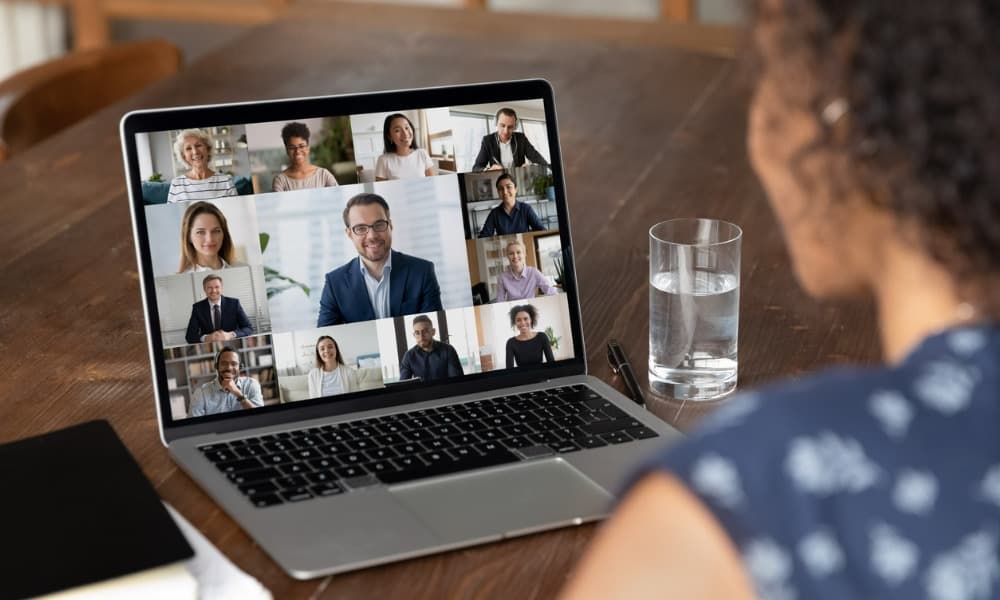 Working remotely can be challenging, especially when you're trying to supervise a sales team you can't meet physically

Let's face it: Virtual selling has become an integral part of our commerce culture. Gallup estimates that over 70 million U.S. workers can do their work remotely. In fact, only two in 10 employees who are capable of working remotely are currently working entirely on-site. It's clear from these stats that to grow as a business, you have to take advantage of the emerging benefits of virtual selling. But how can you ensure that your team successfully transitions to remote work? By practicing effective virtual management.
Managing a remote sales team can be challenging, especially if you're still adjusting to remote work yourself. But don't fret. In this article, we'll cover everything you need to know about managing your remote sales team and making sure they get the job done.
Why is virtual sales management critical?
Although they might have the same goals and objectives, working virtually is different from commuting to work every day. For one, your virtual sales team can choose where they want to work. Also, the element of face-to-face interactions is absent, so communication might be more challenging. Hence, you'll need effective virtual sales management.
Virtual sales management is a system that ensures that your remote sales reps are hitting their targets while avoiding employee disengagement and burnout. When done properly, it can lead to employee engagement and increased productivity, no matter where your employees clock in.
Tips for effective virtual sales team management
Now that we've seen why virtual management is essential for your business, let's look at some ways you can manage your remote sales team and scale your business.
1. Ensure you're hiring the right people

First, if you want to work seamlessly with a virtual sales team, you should ensure that you're hiring people who can work remotely even if they've been commuting to work previously. Hiring suitable candidates is essential because transitioning from in-office to remote can be challenging, and not everyone is up to the task.
Some employees become so used to the 9-to-5 routine that it becomes difficult to work outside the office. So how do you ensure that the person you're hiring is the right fit for your business? Include questions about remote work during the hiring process. Ask questions like:
Do you have any experience with virtual selling?
How well do you work with little or no supervision?
Are you comfortable working remotely?
How do you deal with stress?
The answers to these questions will help you know how the candidate can perform in a remote situation.
2. Draw consistent schedules for your team
One of the perks of remote selling is that your sales team likely has extra time on their hands, especially if they were previously used to long commutes. Sometimes, it can be challenging to manage their time. You can help draw a schedule for the team and encourage everyone to follow it. Include slots for one-on-one meetings, breaks, and reviews.
3. Select the right communication channel
Remember that you don't always get to see your sales team at work since they work virtually, so you must find a communication channel that works for you and your team.
Whereas emails, phone calls, and texts might look like the best options, they lack the personality of face-to-face contact. Thankfully, tools such as Zoom, Microsoft Teams, and Google Meet enable you to see your team during meetings. You can try all these tools and select the one that works best for you and your team.
4. Create a system for measuring goals
As your remote sales team members work from their various locations, you'll need a system to monitor their work and track their progress. And the first step is to set measurable goals.
One of the easiest ways to measure goals is to break them down into smaller objectives. For example, if your sales team members are supposed to make 100 calls monthly, you can break that down to 25 calls per week. Also, using tools such as CRM software can help you track interactions between your sales team and your customers and prospects.
5. Build trust with your sales team
Building a solid and healthy relationship with your remote sales team is one of the ways to prepare your business for success. Remember that your team is an essential part of the organization, so how they feel about you can affect their performance.
You can build a strong relationship by gaining their trust and helping them see that you care about their well-being. Try organizing video conference calls where you talk about everything except work. You can talk about their families, hobbies, and plans. The goal is to create a relaxed atmosphere where they can take a breather before continuing with work.
6. Encourage virtual team bonding
Remote workers might feel lonely or isolated when they don't get to meet their colleagues, but thanks to technology, you can create virtual team bonding activities. Start by creating virtual breakrooms where team members can catch up with their colleagues.
Also, set challenges or games where team members can tackle fun tasks together online and receive rewards for completing them. Virtual team bonding activities will teach your employees how to work with each other despite their differences.
And that's really all there is to it. Just follow these simple steps and you can manage your remote sales team like a pro. Whether your business is fully remote or operating on a hybrid system, you can always establish clear communication channels, improve team bonding, and ensure that your virtual sales team trusts you. And if you're not sure how to get started, the experts are just a mouse click away.
MetaGrowth can help
If you're interested in hiring new remote employees or training your existing team, then contact us at MetaGrowth. We'll work with you to ensure that your virtual team gets all the skills they need to transition to remote selling, creating the world-class sales force you've always dreamed of.