What Is the Agile Sales Methodology?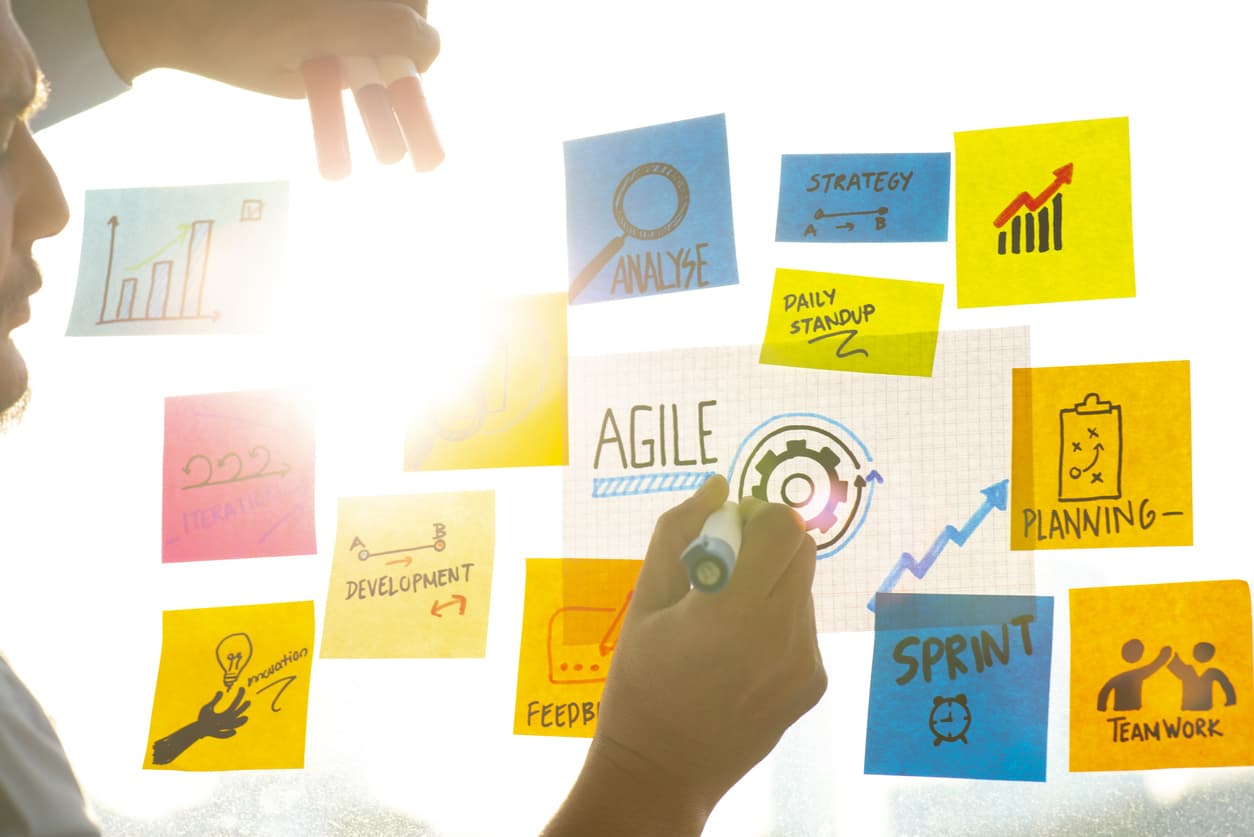 Agile sales borrows principles from the tech world, helping sales teams become more flexible and responsive instead of following a linear process.
Key Takeaways:
Industries outside of IT – including sales – are now adopting agile methodologies.
The agile sales methodology relies on a flexible mindset.
This allows sales teams to alter their approaches based on customer preferences or incoming data.
This method differs from the traditional "waterfall" sales method, which has one overall goal and problems that aren't addressed until the end of a project.
Agile projects are three times more likely to succeed than those that use the waterfall method.
This is primarily because they create more efficient teams and allow for personalization.
Sales teams must be adaptable to stay relevant and continue helping the business grow. Consumer needs and priorities are always changing, and that means the right insights must be pulled – in real time – so that sales can be made based on more personal, relevant information.
Agile sales methodologies were born in the IT space, but they are now becoming more common outside of it. These strategies are defined by a more flexible, responsive mindset, providing an alternative to traditional-minded, linear tactics.
So, what does this mean for sales? Here is your guide to the agile sales methodology and all its benefits for sales teams.
What is the agile sales methodology?
The agile sales methodology borrows project management strategies from IT and applies those principles to sales. The idea is that using these different principles and approaches helps the team increase flexibility and meet customers where they are. Here are a few things to know:
They can also be applied to any stage the customer is in throughout their journey.
Agile methodologies were first used in the software world so that teams could make development processes more streamlined.
More traditional formats didn't work as well in these settings because IT is constantly changing and staff had to stay flexible.
One agile approach, known as "scrum," has since been found to be in use by many professionals outside IT.
The

State of Scrum survey

found that one-quarter of respondents using agile were not within the sector, and that 87% of respondents said scrum is improving their teams' work-life quality.
The agile sales methodology adopts this mindset so that salespeople can respond to unpredictable changes and altering customer priorities, but this approach isn't limited to sales. Other business functions – marketing, content management, consulting, operations, research and development, and more – are also adopting agile practices.
As customers in many industries demand more personalized experiences, business leaders are responding by keeping teams adaptable with more agile, intuitive processes.
Agile sales versus traditional methods
How is agile different from other sales methods? Sales teams have traditionally followed more of a "waterfall" process, which is defined by the following characteristics:
There is a single goal the team is trying to reach
They consider the big picture of the project rather than increments within it
All requirements and plans are mapped out at the beginning, and the outline is followed closely
The process is linear
Problems are discussed and addressed after the project is completed
While this approach has worked for many years in many different industries, it just isn't flexible enough for today's customers. Their needs change quickly, especially as more interactions are conducted digitally and consumers are constantly being sold to through online experiences. They need businesses to understand them better as their preferences change.
The agile sales methodology was born to address some of these issues with the waterfall strategy. Here are some key characteristics of agile sales:
Projects are viewed less as a whole and more in increments
Teams prioritize a set of smaller goals that lead to a bigger goal
Each step or increment can be adjusted based on new information or feedback
Projects are viewed less as linear processes
Problems are addressed as they occur
Research shows that agile projects are three times more likely to succeed than those that follow the waterfall method.
Top benefits of agile sales
Another benefit of the agile tactic is that the sales team can use more personalized, relevant information when selling. Agile sales requires continuous, real-time data gathering so team members can stay flexible in the moment and alter their focus as needed. This means they can immediately pivot when they learn something new about a customer, which helps them land the sale. These differences help sales teams focus more on accountability in meeting goals throughout a project, as well as measuring the right metrics to improve their performance.
How MetaGrowth Ventures can help
It's easy to get stuck in your sales strategies as a founder, and that can make it difficult to identify when your team needs something to change. At MetaGrowth Ventures, westep in and help you with all the tools you need to improve sales team building and head down the path of scalable growth.
Our team brings a combined 30,000 hours in coaching and consulting processes for sales, providing you with expert guidance and hands-on strategies. We can help you with training and hiring, or just maintaining the right level of performance.
Contact the MetaGrowth Ventures team today to learn more about how we can help you improve your sales.