Using HubSpot's Sales Reporting Tools to Improve Sales Performance
Written by
Joe Arioto
Posted on November 2, 2022 In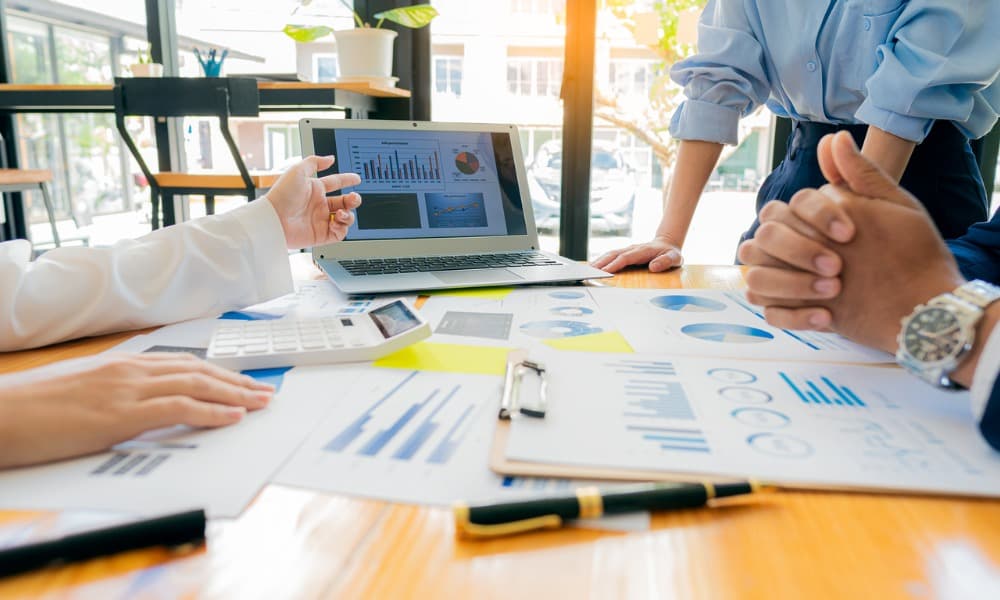 Leverage HubSpot sales reporting to assess and improve the success of your sales team

Managing a sales team requires a lot of hands-on, interpersonal management. But ideally, you should also leverage data to build sales reports that guide your efforts. The right reporting tools can help you improve the efficiency of your sales team, and they can also give you the information you need when talking with other managers or key stakeholders in your company.
For many sales managers, the most important insights about their teams are often hidden behind unorganized CRM data or hard-to-use tools, but it doesn't have to be that way. The HubSpot sales reporting add-on harnesses your CRM data and lets you easily create reports that give you the insights you need.
When you rely on HubSpot for sales reporting, you can conveniently assess your sales team's performance and create forecasts that help you set more effective goals. Here's a look at just a few of the reports you can create.
Contacts reports
A contacts report can help you turn more prospects into customers. Use this report to look at the contacts in your database based on their source, job title, date of the last communication, and position in your deal pipeline. Then you can look for networking opportunities, identify weak spots in your funnel, or find prospects you haven't worked hard enough. Your customers are arguably your company's greatest resource, and your contacts report can show you the untapped potential for new customers.
Funnel reports
Funnel reports help you see how contacts are moving through your sales funnel. Look at new contacts that have been created, see which contacts have been assigned to salespeople, and track their progress.
You can create different stages based on whether you want to analyze lifecycle or deal funnels or pipelines for special offers or events. Then you can assess how effective your marketing efforts are, analyze conversion rates between different stages, and identify areas where your sales team needs additional training.
Revenue reports
Where is your revenue coming from? What marketing sources are drawing customers to your company? What products or sales reps are driving the most revenue? Revenue reports can help you see where your income is coming from. Then you can direct your sales team's efforts more effectively.
Deal pipeline analytics
Deal pipeline analytics allow you to analyze your sales team's performance in real-time. Look at the deals in your pipeline, stay abreast of new deals, and note when sales team members move close dates. Then use this information to identify areas that you need to prioritize.
Deal forecast reporting
Deal forecasting lets you break down forecasted revenue based on the stage of the deal. You can see the total potential revenue of the deals your sales team is working on, but you can also break down the numbers based on different stages in the buyer's journey.
These reports help you determine where you should focus. As you see how the revenue potential changes from stage to stage, you can determine where you need to strengthen your efforts or provide salespeople with additional training on how to move buyers through the funnel more effectively.
Sales activity reports
What is your sales team doing? Are they sending emails, attending meetings, or making calls? Are they making notes and staying on top of tasks? A sales activity report gives you the answers to these questions.
You don't need to breathe down your sales team's necks to ensure they're staying on top of the essentials. Instead, you can use these reports to keep an eye on what they're doing and compare their numbers to efforts from previous periods. Then you can identify which sales team members deserve special recognition or need additional training to improve their efforts.
Stage probability weighted forecast report
You don't have to wait until the last minute to see if you've reached a sales goal. This report can give you a sense of how likely you are to reach your objectives. Look at monthly or quarterly goals. Then, adjust your projections as needed or embrace new approaches to ensure you'll meet your goals.
Custom sales reports
Premade sales reports can help you develop insights about your company, but they don't always have the numbers that you need. You can build custom reports that include the information you want from your CRM plus sales analytics or other data points. Customization ensures that you have the information you need to make your company successful.
HubSpot sales reporting offers over 90 pre-built reports, and you can create up to three dashboards that present the information you want to see quickly. These easy-to-use tools help you turn your CRM data into useful insights about your sales team, your deals, and your pipelines. When you select HubSpot's sales reports add-on, you can spend less time building reports in spreadsheets and more time focusing on your business's sales strategy.
Contact MetaGrowth to improve your approach to sales
Your sales team drives the success of your company. Are you using the right tools to track and improve their performance? If not, we can help. At MetaGrowth, we focus on helping our clients improve their approach to sales. This includes help with the recruiting, hiring, onboarding, and training process, but we also provide guidance on choosing the right tools to track your performance.
Ready to optimize your organization's approach to sales? Then, contact us today. Let's start with a conversation and see how we can help support your success journey.