How to Maximize Sales with the Right B2B Sales Tools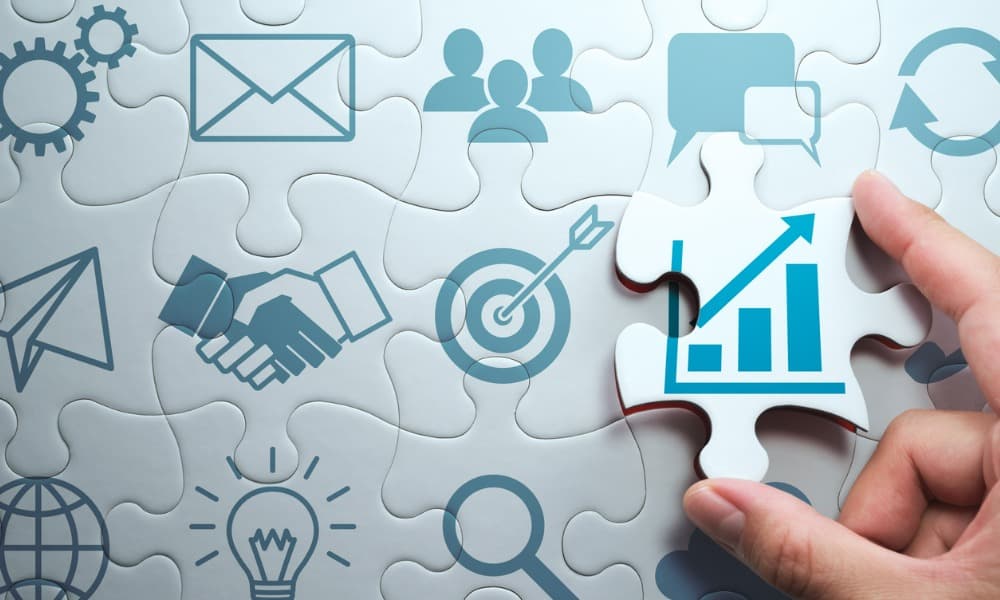 Scaling a business takes more than the right strategy. You also need the right tools. Here's how B2B sales tools can help you streamline processes, close more deals, and boost revenue.

There are a lot of ingredients that go into making a successful business, from product development to marketing. But one that often gets overlooked is also one of the most crucial: sales tools. You can have the greatest product in the world and the best salespeople on the planet, but if you don't give your team the tools they need to get the job done, your business will never reach its full potential.
The right B2B sales tools can improve your lead generation process, reduce conversion time, and drive your ROI – all of which gives your team a leg up on the competition. Here's everything you need to know about B2B sales tools, including how to choose them and best practices for implementation.
Essential B2B sales tools
Most sales tools are geared towards solving a particular problem, so you'll want to look for ones that suit your company's unique needs. Here are just a few of the many options available on the market.
1. Customer Relationship Management (CRM) software
CRM software generates an average ROI of $8.71 for each dollar spent. This comes as no surprise considering the sheer volume of customer data this software can parse. With this information, you can optimize your marketing strategy and personalize your services to individual customer needs.
2. Sales intelligence and lead generation tools
The first step in making a sale is identifying and taking advantage of an opportunity. Sales intelligence and lead generation tools help you identify potential customers and tailor your marketing strategy to best appeal to them, which, in turn, can help you attract more qualified leads and close more sales.
3. Sales presentation and proposal software
Let's face it, creating and presenting sales proposals is a time-consuming process that most sales teams dread. With sales presentation and proposal software, you can automate the entire process –including preparing quotes and other documents to support your pitch – so your team can spend more time focusing on what they do best: selling.
4. Sales analytics and reporting tools
In the current B2B business atmosphere, it's important to base your sales and marketing strategies on hard data. One of the best and most effective ways to do this is by leveraging sales analytics and reporting tools. These tools offer an effective way to track, evaluate, and improve your sales strategy. They can also help with sales forecasting, enabling you to make data-driven decisions on your company's future direction.
5. Sales communication and collaboration tools
Streamlining your product and service delivery is one of the most effective ways to ensure business success. You can assign tasks, track progress, and report on outcomes with sales communication and collaboration tools. Ultimately, this helps improve workflows, leading to better business efficiency.
As you can see, all of these different types of tools can offer benefits to your business. So it just comes down to deciding which ones you really need – which can be easier said than done.
How to choose the right b2b sales tools
The B2B sales toolkit you choose can make the difference between utter chaos and a total sales revamp. Here are a few tips on choosing the right tools for your company.
1. Identify your sales team's needs
What are the pain points in your sales funnel, and what does your sales team need to overcome them? If your sales team has trouble managing customer and sales data, you may need to install sales analytics software. Or if your team struggles with customer service, CRM software could be the answer.
2. Assess your budget
While you may be tempted to go for a premium B2B sales toolkit with all the bells and whistles, understand that they can be quite expensive. Therefore, before settling down on a specific toolkit, consider your budget and look for the software package that best suits your needs at a price you can afford.
3. Evaluate user-friendliness and ease of integration
Even the best B2B tool on the market won't do any good if you can't integrate and use it correctly. For optimum results, you need software that will work seamlessly with the systems you already have in place. It should also be easy for your sales team to use. All the premium features in the world won't help if your sales team can't figure out how to use them.
4. Consider scalability
Every business plans to expand at some point in the future. So you need a system that can grow with you and handle any extra customer data and usage requirements seamlessly.
5. Check for data security.
Two out of three B2B customers prioritize data security when making a purchase decision. Additionally, with cybercrime rising, more business owners realize the benefits of taking security measures to protect their clients and themselves. So when choosing your B2B toolkit, make sure that it's data security compliant.
With these factors in mind, you should be able to narrow down your search and find the right B2B sales toolkit for your business. Now your only problem is getting it set up and running.
Best practices for implementing B2B sales tools
There's always going to be a learning curve when it comes to new software. But you can make the whole process a lot less painful by following a few best practices:
1. Train your sales team.
B2B sales tools are still a relatively new addition to the market, so your sales team might not know how to use them effectively. And even if they're familiar with some of the basics, you want them to become experts in the specific software you've purchased. So it's a good idea to train your sales team before rolling out the system and then constantly reinforce the training to make sure they're getting the most out of it.
2. Integrate the tools with your existing systems.
Nobody wants to juggle a bunch of different programs that won't work together. To take full advantage of all the benefits of this new technology, you need to integrate your entire sales system – everything from your CRM to your inventory management system. That way, your team will have access to everything they need to get the job done right.
3. Establish clear protocols and processes.
A typical sales process involves prospecting, connecting, qualifying your leads, presenting an offer, handling objections, and closing the sale. You need to implement your sales tools in a way that corresponds to your sales process to make them more effective.
4. Continuously monitor and optimize tool usage.
Which tools are your sales team really using? Which ones are they ignoring? And why? Once you've got this figured out, you can work on strategies to optimize usage and make sure that your employees are getting the full benefits of your entire software package.
If all this sounds like a pretty involved process, well…it is. Luckily, you don't have to go it alone.
Revolutionize your sales strategy with the best B2B sales tools from MetaGrowth Ventures
If you're going to compete in the modern marketplace, B2B sales tools are a must. If you're not already taking advantage of this crucial sales technology, don't risk falling farther behind. Let MetaGrowth Ventures be your guide. Our experts can help you build a world-class sales team, leverage your time, and take your company to the next level. If you're ready to revamp your sales strategy, contact us today.